Many students, when choosing a career to study, do not consider health careers because of the potential for patient contact. Health careers are a diverse field of study and many students are unaware that a wide variety of careers exist within healthcare that do not require exposure to patients. One of the most popular health careers that involve minimum direct patient care is in the field of laboratory medicine.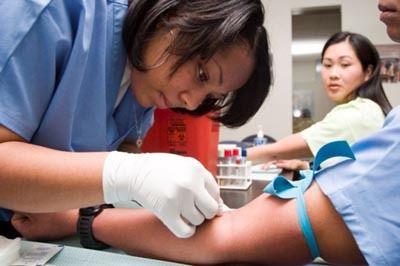 What jobs are available in the hospital lab?
Laboratory employees have many different jobs in the hospital lab. Career choices include a number of specialties, each which requires differing degrees of education. Specimen processors often have a one year or one semester certificate of proficiency in phlebotomy or have only taken classes in medical terminology. Processors are responsible for reading doctors' orders and processing the specimens so that each lab test can be performed.
Laboratory technologists have four- to five-year bachelor's degrees in medical technology. Similarly, laboratory technicians have 2-year associate's degrees. These employees' primary job is to run the testing on the laboratory specimens. Because of the complexity of running the tests, many classes must be taken in chemistry and biology. A firm foundation in these basic sciences will ensure that the more complex laboratory classes will be understood.
Supervisors and managers in the hospital lab often have advanced degrees in addition to degrees in medical technology. Master's degrees in business and advanced sciences such as chemistry and biology, along with lab experience will qualify a technologist to have a management position. Many technical managers in laboratory medicine have doctorate degrees in their specialties.
What specialties can I study?
There are a number of different specialties in laboratory medicine from hematology to chemistry. Hematology is the study of blood, and hematologists are the people trained to study the blood. There are many tests that are performed in hematology, and most of them deal with counting and classifying blood cells. Hematologists frequently sit for long periods of time at microscopes observing slides for abnormalities.
Chemists are specialists who study the chemical reactions in the body. Samples of blood, called aliquots, are placed into test tubes and then onto chemistry instruments. These instruments will analyze many different chemical reactions and report out results. The chemist will then review the results, searching for potential instrument errors. Since instruments are not fool-proof, many times they make mistakes in testing and the chemist must correct the errors. With both hematology and chemistry, specialists must be skilled problem solvers looking for solutions to frequent instrument errors.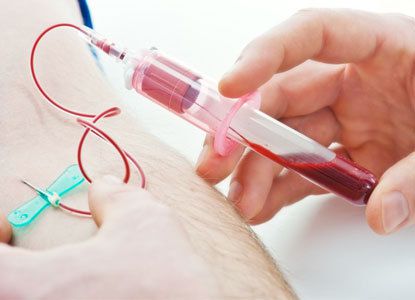 Laboratory Medicine, a Hidden Health Career Choice
If you are searching for a career that is challenging yet still improves the healthcare of individuals, a career in laboratory medicine could be for you. These career choices in healthcare are excellent for those looking for interesting and thought-provoking employment that doesn't involve direct patient contact. For more information, contact the American Society for Clinical Pathology, the American Society for Clinical Laboratory Science, or the American Association of Clinical Chemists. These organizations have a wide variety of information available on laboratory careers and employment opportunities.